From Beirut to Geneva

Edward Beshara, Managing Partner, will be attending and speaking at the Investment Migration Forum. The Investment Migration Forum, organized by the Investment Migration Council,  is the world's premier independent forum on the subject of citizenship-by-investment and investor migration. Renowned academics, government officials, representatives of international organizations, as well as the world's leading professionals dealing with investor migration and citizenship will be gathering in Geneva from June 5 – 7 2017. This leading forum is a great opportunity to obtain insights into the latest developments in citizenship and residence programs, networking opportunities with the leading industry professionals and senior government officials and get the latest updates directly from leading academics and influential thought leaders in the field.
Beshara Professional Association is a Bronze Sponsor to ensure a significant presence in the most important global forum in the field.
Edward will also be moderating and speaking on the panel titled: "United States EB-5 Program in the Age of Trump". The panel consists of top industry leaders from the U.S.: 
Edward Beshara, Moderator, Managing Partner Beshara Professional Association, Orlando, Fl., AILA National Global Migration Committee.
Peter D. Joseph IMCM, Executive Director, Invest in the USA (IIUSA), Washington D.C.
Chuck Summers, President of KOIT Global Investments in association with AISA.
Carmen Arce IMCM, Former Chair of the Florida Bar Board Certification Committee for Immigration, Arce Immigration Law, Miami
Mikki Canton, Managing Director, City of Miami EB-5 Regional Center, Miami
Dan Fulop, Managing Director, Related EB-5, New York
Beirut International Property Fair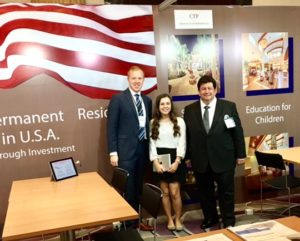 The Beirut International Property Fair took place at the Hilton Beirut Habtoor Grand Hotel & Convention Center from May 12 to 14, 2017. Beshara Professional Association and client Christian Tyler Properties, LLC, a privately held, full-service real estate development, acquisition, investment, and management company exhibited and presented at the fair.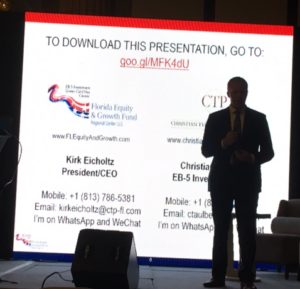 The principal of Christian Tyler Properties, LLC, Mr. Kirk Eicholtz, could not be present because of a conflict and sent his professional team including Christian Taulbee and Emily Blaine.
This Real Estate Fair included exhibitors from Europe & the Gulf Countries. These exhibitors consisted of developers and migration agents. The fair was a great networking opportunity and an excellent venue to showcase professional services and as a result, Beshara Professional Association did observe the key drivers to immigration in the Middle East market.

25th International Heritage Day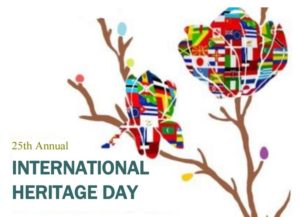 Andre Almeida, our Brazilian Liaison, and Paralegal, participated in the World Trade Center Orlando (WTCO) 25th International Heritage Day. The WTCO is part of a global organization that provides trade information and business networking services to our local and international members.
Edward Beshara to serve again in the IIUSA as a Committee Member for 2017-18 term
 Edward Beshara, Managing Partner, will be volunteering for another year working on the following IIUSA committees:
Best Practices on these two sub-committees: Regional Center Handbook and Compliance Audit & Site visits.
Investor Markets Committee.

Extension of Haiti's Designation for Temporary Protected StatusSecretary of Homeland Security John F. Kelly today announced his decision to extend—for an additional six months—the Temporary Protected Status (TPS) designation for Haiti.  This extension is effective July 23, 2017, through January 22, 2018.Click here for more details
ICE expands digital presence with Spanish website, Twitter – May 23, 2017
Last week, ICE launched ICE.gov/es, an expanded Spanish language presence on our website. The translated site offers information about ICE and the agency's mission, as well as press releases and special features.  Learn more
DHS releases the fiscal year 2016 entry/exit overstay report – May 22, 2017
U.S. Department of Homeland Security (DHS) released today the Fiscal Year (FY) 2016 Entry/Exit Overstay Report. The report provides data on departures and overstays, by country, for foreign visitors to the United States who entered as nonimmigrant visitors through an air or sea Port of Entry (POE) and were expected to depart in FY16.
Read the full FY16 Entry/Exit Overstay Report here
Two New Draft EB-5 Legislation bills were introduced and are currently under discussion.
Senate Majority Whip and Immigration Subcommittee Chairman, Senator John Cornyn's office has released new draft legislation for EB-5 reform and reauthorization to IIUSA for review. Proposed changes: minimum EB-5 investment amount: $925K ($800K TEA) and new and restricted categories, but different from Grassley/Leahy draft. Temporary visa set-asides for rural and closed military base only. TEA monetary incentive reduced to insignificance. Read the draft here
Senators Grassley and Leahy's draft legislation.  Proposed changes: minimum EB-5 investment amount: $1M ($800K TEA) and creates new categories (slightly revised from HR 5992) and temporary set-asides; limits gerrymandering; USCIS designates; reduces monetary TEA incentive. Read the draft here
USCIS has changed the direct filing addresses for certain forms effective May 20
USCIS has changed the direct filing addresses for where to file certain forms for beneficiaries who will be working or training in Florida, Georgia, or North Carolina. Check the details here
Useful Links: