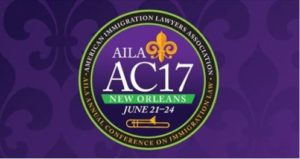 AILA Annual Conference on Immigration Law – June 21-24
Edward Beshara, Managing Partner,  attended the AILA Annual Conference on Immigration Law on June 21-24, 2017, in New Orleans. He also participated on a panel titled "Representing the EB-5 Investor: Requirements and Ethical Considerations". The conference was a huge success and was a great opportunity to learn new strategies and get hands-on industry updates to better serve our clients.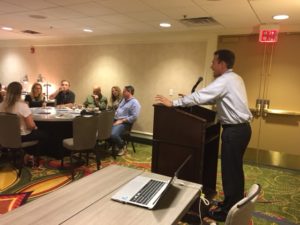 Also, Attorney John Gihon of Counsel to Beshara Global Migration Law Firm addressed the Central Florida Chapter of American Immigration Lawyers Association at the National Conference.
AILA National Global Migration Steering Committee Meeting – June 22, 2017
Edward Beshara attended the first meeting for The Global Migration Section Steering Committee. It was a very fruitful meeting setting the goals for the year ahead.
Meet EJ our new team member.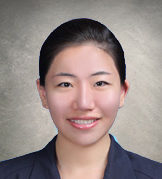 Eunjung Jen, Esq. (全垠贞) is an Associate Attorney. She has an LL.B from Peking University Law School and an LL.M. from University of Illinois at Urbana-Champaign College of Law. EJ has three years of corporate business law and compliance law experience and one year of US Family Immigration law focusing on the Korean and Chinese markets. She is now expanding into US Business Immigration. EJ is fluent in Mandarin Chinese, Korean, and English.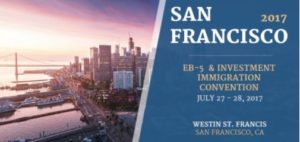 Edward Beshara, Managing Partner, will be sponsoring, speaking and attending, the EB5 Investors Magazine 2017 San Francisco EB-5 & Investment Immigration Convention that will take place at the Westin St. Francis hotel on July 27-28. The Convention is expected to host a gathering of top migration agencies, immigration attorneys, EB-5 industry professionals, regional centers.

USCIS Policy Manual Update
The USCIS Policy Manual has been updated to provide further guidance regarding the job creation and capital at risk requirements for Form I-526, Immigrant Petition by Alien Entrepreneur, and Form I-829, Petition by Entrepreneur to Remove Conditions on Permanent Resident Status. Volume 6 (Immigrants), Part G: Investors is effective on June 14, 2017. The Policy Alert is available here.
You can send your comments on the policy update to USCIS email publicengagementfeedback@uscis.dhs.gov. Final date for comments is June 28, 2017.
Read our blog "Where are we now" on the USCIS UPDATES EB-5 POLICY FOR FURTHER DEPLOYMENT OF EB-5 FUNDS.
USCIS Q2 (Jan to Mar 2017) Statistics are inaccurate.
USCIS has updated its website with data from FY2017 Q2 (January to March) for petitions including I-526 and I-829 early this month. These reports generally provide summary data on the number of applications or petitions received, approved, denied and pending. USCIS' data may not be perfect, however. Many EB-5 professionals have already taken issue with the data. Check responses to USCIS from some of the industry leaders:
Trump proposes a law for Immigrants – June 21, 2017
President Trump called for a new law barring immigrants from receiving welfare for at least five years at a rally on Wednesday, but this law already exists 20 years ago. Read the full article here.
Legal Immigration and Adjustment of Status Quarterly Report – June 23, 2017
the Department of Homeland Security has issued its first quarterly report detailing the number of adjustments of immigration status that occurred during the reporting period, disaggregated by type of adjustment, type and detailed class of admission, and country of nationality. The report may be found here
Useful Links: