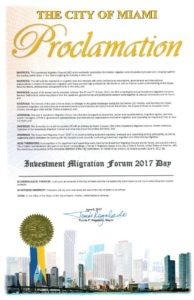 Edward Beshara, Managing Partner, attended the Investment Migration Forum as a moderator and speaker on EB-5 and as a sponsor. Mr. Beshara, on behalf of Mikki Canton, Managing Director, City of Miami EB-5 Regional Center and the City of Miami Mayor Tomas Regalado, presented to the IMC Directors a PROCLAMATION naming June 6, 2017, Investment Migration Forum 2017 Day.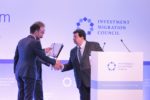 Pictured Edward Beshara making the presentation of the Proclamation to the IMC Directors Prof. Dimitry Kochenov, Chairman, Investment Migration Council and Bruno L'ecuyer, CEO Investment Migration Council.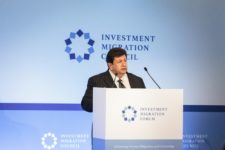 The EB-5 panel discussion was a huge success, quoting Bruno L'ecuyer, CEO of the Investment Migration Council: "your panel was balanced and really well organized. I know it is not easy to manage such sessions with so many important people on stage with you." The panel was titled: "United States EB-5 Program in the Age of Trump."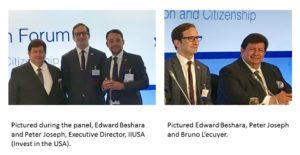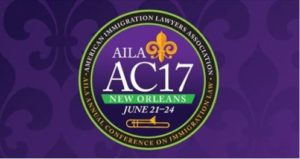 AILA Annual Conference on Immigration Law – June 21-24
Edward Beshara, Managing Partner, will be attending the AILA Annual Conference on Immigration Law on June 21-24, 2017, in New Orleans.
He will also be speaking on a panel titled "Representing the EB-5 Investor: Requirements and Ethical Considerations," joined by other industry professionals: Kristal Ozmun (DL), Ithaca, NY, Elsie Hui Arias, Los Angeles, CA, and David M. Morris, Washington, DC.
While in New Orleans, Edward will also attend the first meeting for The Global Migration Section Steering Committee on June 22, 2017

Federal Appeals Court Rejects Trump's Second Travel Ban
On June 2, 2017, the Justice Department filed a petition to the U.S. Supreme Court appealing a 10-3 ruling issued last week of May 2017 by the Fourth Circuit affirming a block against the travel ban section of President Donald Trump's executive order, which sought to temporarily bar nationals of six Muslim-majority countries. Read more here
Extensive Questioning for Some Visa Applicants Approved
The Trump administration has signed off on a newly detailed questionnaire for visa applicants worldwide that calls for data such as their social media user names and 15 years' worth of travel, employment, and other biographical information. All visa applicants should continue to be prepared for additional scrutiny and the possibility of longer wait times for visa approvals. Read More
Regional Center Termination Notices
USCIS is now proactively publishing Regional Center termination notices as they become available, which is consistent with our commitment to transparency in the EB-5 program. Read More
USCIS Releases New Edition of Form I-829
USCIS recently announced the release of a new edition of Form I-829, with the new edition dated April 21, 2017. Starting on July 24, 2017, USCIS will only accept April 21, 2017, edition. The revised Form I-829 more closely resembles the requests and structure of the revised Form I-526. Additionally, the revised Form I-829 has space for listing multiple job-creating entities, similar to the revised Form I-526. Read More
Laptop Ban May Extend To 71 Airports, DHS Head Says
On June 7, 2017, The U.S. Department of Homeland Security chief told a House panel that the federal government is considering an expansion of its ban on large electronics, like laptops, in carry-on bags from the 10 current airports to up to 71 airports for U.S.-bound flights. Read More
USCIS Q2 (Jan to Mar 2017) Statistics for I-526/I-829 Petitions published
The USCIS Immigration and Citizenship Data page has been updated with data from FY2017 Q2 (January to March) for petitions including I-526 and I-829. Here are some of the  findings:
USCIS processed 567 fewer I-526s this quarter than last quarter and was to be expected since the previous quarters represented unnatural filing surges around sunset dates.
USCIS processed about 200 more I-829 petitions this quarter than last quarter showing improvement, but not enough. IPO announced their new I-829 adjudications unit in early March, so we may have to wait for Q3 stats to see real improvement.
Click here for the detailed statistics.
Useful Links: