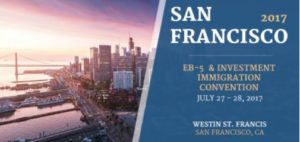 Edward Beshara, Managing Partner, will be attending and sponsoring the EB5 Investors Magazine 2017 San Francisco EB-5 & Investment Immigration Convention that will take place at the Westin St. Francis hotel on July 27-28. The Convention is expected to host a gathering of top migration agencies, immigration attorneys, EB-5 industry professionals, regional centers.
Edward Beshara will also be talking on a panel titled "Agent Due Diligence – Project Failure: Pre and Post I-526 Approval"
Beshara Global Migration Law Firm in partnership with the Central Florida Brazilian American Chamber of Commerce (CFBACC) will give a Free Seminar titled "Approvable Solutions to Immediately Achieve your Visa Goals" (EB-5, L-1, E-2, EB-1, F-1), U.S. Tax Planning for Brazilians, Solutions for Problem Cases, on July 18, 2017 from 10:00AM to 12:00PM at the i-Drive Nascar (5228 Vanguard Street, Orlando, FL. 32819. For Registration click here.Meet EJ our new team member.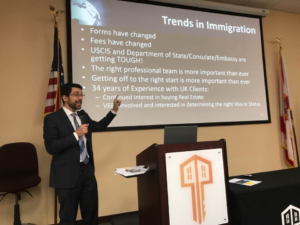 Salvatore Joseph Picataggio Jr., Junior Partner at Beshara Global Migration Law Firm, spoke to the Orlando Regional REALTOR® Association and the Global Real Estate Council of Orlando on Thursday, June 29, about trends in Immigration and visa options for British Nationals to live, work and study in the U.S.

Ombudsman Releases Annual Report to Congress
On June 30, The Office of the Citizenship and Immigration Services Ombudsman released its Annual Report 2017 to Congress. The Ombudsman has the statutory mission to assist individuals and employers with problems with U.S. Citizenship and Immigration Services (USCIS) and make recommendations to improve the delivery of immigration services. One of the issues raised was that the series of short-term extensions of the EB-5 program triggered filing surges; investors and their dependents from China may have to wait 10 years or longer for immigrant visas under the EB-5 program. Read the report here
DHS announces the implementation of President Trump revised Travel Ban
The Department of Homeland Security (DHS) announced the implementation of the President Trump revised travel ban on June 29, 2017, at 8 p.m. EDT. Per the Executive Order and the associated June 14 Presidential Memorandum, the temporary suspension of entry applies, with limited exceptions, only to foreign nationals from Sudan, Syria, Iran, Libya, Somalia, and Yemen, who are outside the United States as of June 26, who did not have a valid visa at 5 p.m. EST on January 27, and who do not have a valid visa as of 8 p.m. EDT on June 29. Check the DHS announcement here. For more information, see the frequently asked questions.
Emirates and Turkish Airlines have been exempted from an American ban on laptops and other electronic devices in the passenger cabins.
The Department of Homeland Security said that the laptop ban would be lifted for airlines that fulfilled new requirements to increase security. On July 5, these two airlines were cleared because they had begun conducting more rigorous passenger screening. In March, the Department of Homeland Security imposed a limited ban barring passengers traveling through airports in 10 Muslim-majority countries from carrying devices larger than cell phones aboard direct inbound flights because of concerns that the Islamic State was developing a bomb that could be hidden in portable devices. Read more.
USCIS Introduces Redesigned Form for Green Card Applicants.
U.S. Citizenship and Immigration Services today published a revised Application to Register Permanent Residence or Adjust Status (Form I-485). The new Form I-485 and instructions have been substantially updated to reduce complexity after collecting comments from the public and stakeholders. Check what is new here
USCIS to Resume H-1B Premium Processing for Physicians under the Conrad 30 Waiver Program.
U.S. Citizenship and Immigration Services announced today that starting Monday, June 26, the agency will resume premium processing for all H-1B petitions filed for medical doctors under the Conrad 30 Waiver program, as well as interested government agency waivers. Read more
Useful Links: