EB-5 Legislation? New Regulations? Continuing Resolutions?
USCIS reports a substantial increase in I-526 filings and I-924 Regional Centers filings for March & April 2017.
             
Sal Guest Speaker at the ORRA.
Sal Picataggio, Junior Partner, provided a three-hour
class
on business immigration processes to 80 Orlando Realtors as part of the Orlando Regional Realtor Association's Affiliate Education Series on April 6,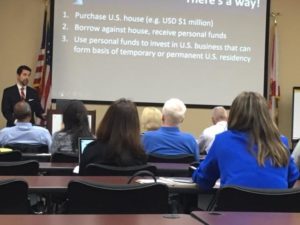 2017. Sal and 
BESHARA PROFESSIONAL ASSOCIATION
recognize that REALTORS, especially in Orlando, often work with foreign home buyers or investors. Sal provided valuable information on business immigration processes like L-1, E-2, and EB-5, so that Realtors can recognize their clients' U.S. immigration needs and the importance of working with experienced U.S. immigration attorneys. Sal gave a detailed presentation and lead discussions with the Realtors in attendance.
Joining the MANIcure Movement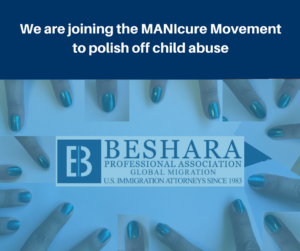 The team at
BESHARA PROFESSIONAL ASSOCIATION
painted their nails in blue to join the MANicure Movement. The MANicure Movement is an effort to help raise awareness of violence against children as a national health crisis (1 in 5 children are abused in the United States before the age of 18) during April which is the National Child Abuse Prevention Month April in the City of Orlando.

CBP Releases Statistics on Electronic Devices Searches.
US Customs and Border Protection released new statistics on the searches for electronic devices for the first six months of FY17. The devices the government searched included laptops, cell phones, and other electronic devices. The reports indicate that the number of travelers entering the U.S. who are being asked to turn over their electronic devices to be analyzed has nearly doubled with the mission to protect the American people. CBP also provided a handout on the authority to search electronic devices, why the agency might subject an electronic device to an inspection, and what happens with the return or seizure of detained electronic devices. Read the details here.
USCIS Announced Further Measures to Detect H-1B Visa Fraud and Abuse.
USCIS Announced New Measures to Detect H-1B Visa Fraud and Abuse on April 3, 2017, To further deter and detect abuse, USCIS has established an email address for receiving tips, information about alleged violations, and other relevant information about potential H-1B fraud or abuse information from individuals. Read more.
USCIS reach Cap for 2018 H-1B visa.
The US Citizenship and Immigration Services announced on April 7, 2017, that the ceiling of 85000 H-1B visa applications has been reached (the congressionally mandated 65,000 visa H-1B cap and a sufficient number of petitions to meet the 20,000 visa U.S. advanced degree exemption known as the master's cap). Check details here.
Senator Rand Paul legislation on EB5 and work employment based visa.
Rand Paul, R-KY, a longtime advocate for the EB-5 program, introduced a bill to "increase the worldwide level of employment-based immigrants and to reauthorize the EB-5 regional center program" in advance of its scheduled expiration. Read the Bill details here.
DOL Announces PERM Case Management System Enhancement.
ETA has implemented a new enhancement to the PERM Case Management System (CMS) related to the submission of applications for permanent labor certification intended to reduce burdens on employers and streamline the processing of applications. Beginning on and after April 15, 2017, the PERM CMS will permit the submission of electronic documentation while the application is pending review and up to 30 calendar days after the notice of proposed final agency action is issued on an application. Quick Guide at https://www.plc.doleta.gov/onlinehelp.pdf.
USCIS has recently updated the following forms:
Form I-129F, Petition for Alien Fiancé(e): New edition dated 04/10/17. Starting 06/09/2017, we will only accept the 04/10/17 edition. Until then, you can use the 12/23/16 edition.
Form I-290B, Notice of Appeal or Motion: New edition dated 04/10/17. Starting 06/09/17, we will only accept the 04/10/17 edition. Until then, you can use the 12/23/16 edition.
Form I-526, Immigrant Petition by Alien Entrepreneur: New edition dated 04/10/17. Starting 06/09/17, we will only accept the 04/10/17 edition. Until then, you can use the 12/23/16 edition.
Useful Links: