Our Firm News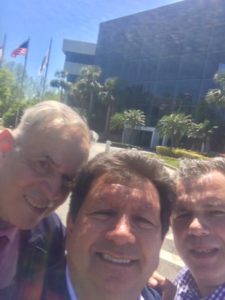 Meeting with Ash Hebdige, International Relations Manager for EB5investors.com – March 21, 2018
Edward Beshara, Managing Partner Ash Hebdige, International Relations Manager for EB5investors.com and Joel Stewart, Brazilian Honorary Consul of Central Florida, outside our office building. Our discussion concentrated on the EB5investors.com conference in Sao Paulo.
Meeting with Mario Moura – March 26, 2018

Edward Beshara, Managing Partner arranged various meetings with professional groups in Orlando for our Brazilian guest, Director of Brazil's largest currency exchange broker and Brazilian Honorary Consul, Joel Stewart.
CFBACC Political Candidate Night – March 26, 2018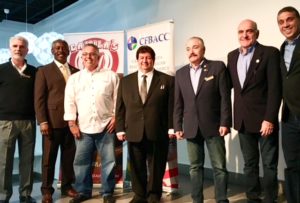 As a Board Member of the Central Florida Brazilian American Chamber of Commerce (CFBACC), Edward Beshara attended a political candidate night (Jerry Demings for Orange County Mayor)
The topic was the Brazilian Market and Migration to Florida.

Asylum Workshop at UCF – March 28, 2018

Edward Beshara, Managing Partner, and John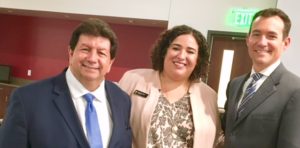 Gihon, Of Counsel Attorney, organized and presented the topic of "Asylum under the Trump Administration: New Policies" to UCF (University of Central Florida) international students interested in learning more about Asylum. Over 30 students attended the workshop in person in addition to live stream attendance. The workshop was very successful and was thought very helpful according to the students' feedback.
Edward and John met with UCF leadership team after the workshop.
Coming Events
EB5Investors 2018 São Paulo EB-5 Expo – April 11 & 12, 2018
Edward Beshara was invited by the EB5Investors magazine to be a guest speaker on a panel during the 2018 São Paulo EB-5 Expo, an industry-wide immigration, and investment conference, that will take place at Sheraton São Paulo on April 11 – 12, 2018. The panel title is "Navigating SOF (Source of Funds) and Tax Issues".
This two-day networking and educational event will host a gathering of leading regional centers, project developers, local migration agencies, immigration and securities attorneys, wealth managers and other prominent EB-5 program stakeholders.
Beshara Global Migration Law Firm has a full team that speaks Portuguese including lawyers and paralegals to better serve this growing demand.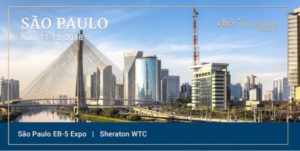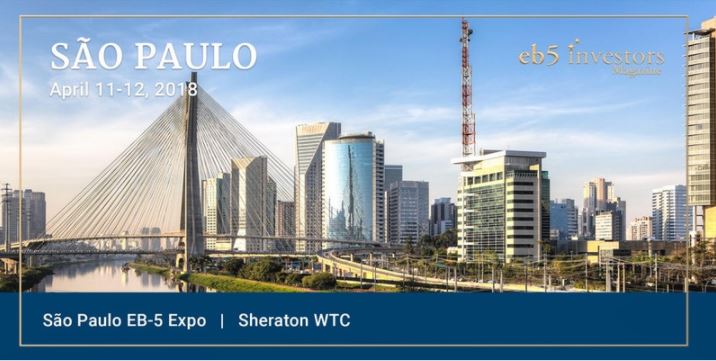 IIUSA EB-5 Advocacy Conference – April 22 to 24, 2018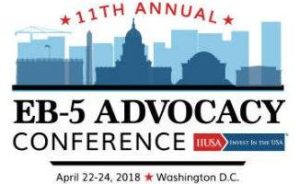 Edward Beshara, Managing Partner will be attending and be speaking at the IIUSA EB-5 Advocacy Conference in Washington DC on April 22- 24, 2018 at the vibrant Marriott Marquis, completed in May of 2014 with the help of EB-5 investment. The panel title is "Creative Solutions to EB-5 Visa Backlog: How Non-Immigrant Visas Can Help (or not)".
The IIUSA EB-5 Advocacy conference is considered the EB-5 industry's premier conference focusing on advocating for the EB-5 Program, promoting industry success and driving business development.
Immigration News
Congressional Leaders Agree To $1.3T Long-Term Funding Bill – March 21
House and Senate leaders have reached an agreement Wednesday on federal spending for the next six months, kicking off a race to keep the government open ahead of a Friday funding deadline. The spending package would increase domestic funding by $63 billion over last year's levels, or about 12%, and it would boost military spending by $80 billion, about 15%. Overall, the new agreement would allocate $1.3 trillion to fund domestic and military programs through Sept. 30, the end of this fiscal year. Source: USA Today Article
USCIS Will Suspend Premium Processing for Fiscal Year 2019 H-1B.
Starting April 2, 2018, USCIS will begin accepting H-1B petitions subject to the Fiscal Year (FY) 2019 cap. USCIS announced on March 20, 2018, that they will temporarily suspend premium processing for all FY 2019 cap-subject petitions, including petitions seeking an exemption for individuals with a U.S. master's degree or higher. Read the announcement HERE
USCIS Will Begin Accepting CW-1 Petitions for Fiscal Year 2019 on April 2, 2018
On April 2, 2018, U.S. Citizenship and Immigration Services (USCIS) will begin accepting petitions under the Commonwealth of the Northern Mariana Islands (CNMI)-Only Transitional Worker (CW-1) program subject to the fiscal year (FY) 2019 cap. Employers in the CNMI use the CW-1 program to employ foreign workers who are ineligible for other nonimmigrant worker categories. The cap for CW-1 visas for FY 2019 is 4,999. Read the announcement HERE
USCIS Updates Webpage to Share More Accurate Processing Times
The pilot will test four forms using a new automated methodology for calculating processing times. The four forms are:
Form N-400, Application for Naturalization;
Form I-90, Application to Replace Permanent Resident Card;
Form I-485, Application to Register Permanent Residence or Adjust Status; and
Form I-751, Petition to Remove Conditions on Residence.
Read the details HERE
USCIS and CBP to Implement Form I-129 Pilot Program for Canadian L-1 Nonimmigrants
From April 30, 2018, to Oct. 31, 2018, the USCIS California Service Center (CSC) and the U.S. Customs and Border Protection (CBP) Blaine, Washington, port of entry (POE) will implement a joint agency pilot program for Canadian citizens seeking L-1 nonimmigrant status under the North American Free Trade Agreement (NAFTA). This pilot is designed to facilitate the adjudication and admission process of Canadians traveling to the U.S. as L-1 nonimmigrants.
Read the details HERE
Presidential Memorandum Terminating DED for Liberians on 03/31/2019
The President released a Memorandum today allowing current Liberians in the U.S, in the DED status for one more year as a transition to the date of termination of DED on 03/31/2019. Their current DED is scheduled to expire on this Friday, 03/31/2018. Read the Memorandum HERE
State Department Proposal to Revise DS-260, Immigrant Visa Application Form, to Collect Additional Information.
The State Departments intends to add several additional questions for nonimmigrant visa applicants. One question lists multiple social media platforms and requires the applicant to provide any identifiers used by applicants for those platforms during the five years preceding the date of application.
USCIS Release New Policy Memorandum on "Related Entities" for Filing Multiple H-1B Cap Petitions for Same Foreign Worker
The Policy Memoranda adopts Matter of S- Inc., Adopted Decision 2018-02 PM-602-0159. For purposes of the bar to filing multiple H-1B cap-subject petitions for the same beneficiary, Matter of S- Inc. clarifies that the term "related entities" includes petitioners, whether or not related through corporate ownership and control, that file cap-subject H-1B petitions for the same beneficiary for substantially the same job. Absent a legitimate business need to file multiple cap-subject petitions for the same beneficiary, USCIS will deny or revoke the approval of all H-1B cap-subject petitions filed by "related entities" for that beneficiary.
Congress' omnibus spending bill expands H-2B guest worker program
Univsion's article indicates that the Omnibus spending bill which has been signed into law included authorization for the DHS to increase H-2B cap numbers to double of the 66,000 annual cap, should DHS and DOL find there is such need this year.