Our Firm News
EB5investors.com 2018 São Paulo EB-5 Expo – April 11 & 12, 2018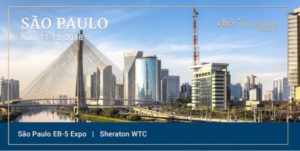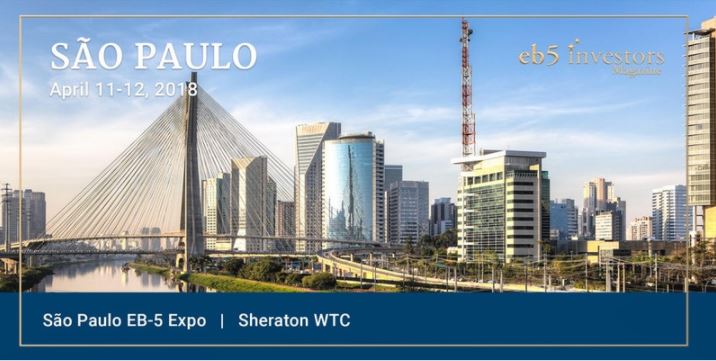 Edward Beshara attended and was a guest speaker on a panel at the EB5Investors magazine 2018 São Paulo EB-5 Expo, an industry-wide immigration, and investment conference, that will take place at Sheraton São Paulo on April 11 – 12, 2018. The panel title is "Navigating SOF (Source of Funds) and Tax Issues".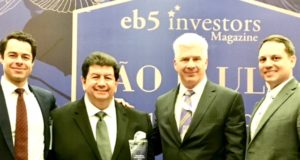 This two-day networking and educational event hosted a gathering of leading regional centers, project developers, local migration agencies, immigration and securities attorneys, wealth managers and other prominent EB-5 program stakeholders.
Beshara Global Migration Law Firm has a full Brazilian team that speaks Portuguese including lawyers and paralegals to better serve this growing demand.
Our firm has proven success with EB-1 / Extraordinary Ability Petitions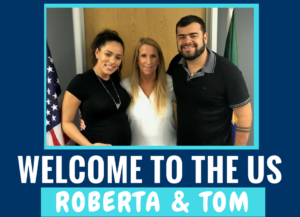 Pictured at our Law office with Robin Mulack, Legal Administrator and Senior Paralegal is nationally known Brazilian Actress Roberta Almeida and her husband Tom Goncalves. These very happy clients, and expecting parents, just received their 10 Year US Permanent Residency Cards, based upon an Extraordinary Ability Petition (EB-1 self-petition)
If a foreign national can show extraordinary ability in science, the arts, education, business, or athletics it can be the basis for a green card.
Coming Events
IIUSA EB-5 Advocacy Conference – April 22 to 24, 2018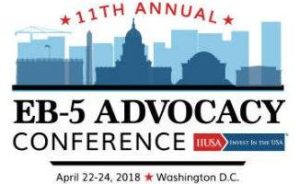 Edward Beshara, Managing Partner will be attending and be speaking at the IIUSA EB-5 Advocacy Conference in Washington DC on April 22- 24, 2018 at the vibrant Marriott Marquis, completed in May of 2014 with the help of EB-5 investment. The panel title is "Creative Solutions to EB-5 Visa Backlog: How Non-Immigrant Visas Can Help (or not)".
The IIUSA EB-5 Advocacy conference is considered the EB-5 industry's premier conference focusing on advocating for the EB-5 Program, promoting industry success and driving business development.
Immigration News
USCIS Completes the H-1B Cap Random Selection Process for FY 2019
On April 11, USCIS used a computer-generated random selection process to select enough H-1B petitions to meet the congressionally-mandated cap and the U.S. advanced degree exemption, known as the master's cap, for fiscal year (FY) 2019. Read the details Here
New E-Verify.gov Website a User-Friendly Source to Verify Employment 
U.S. Citizenship and Immigration Services (USCIS) announced on April 11, 2018, the launch of our new website, E-Verify.gov. This is the authoritative source for information on electronic employment eligibility verification. E-Verify.gov is for employers, employees and the general public.
USCIS Will Conduct a Lottery for CW-1 Petitions for Fiscal Year 2019
USCIS has received petitions for more than the number of visas available for fiscal year (FY) 2019 for the Commonwealth of the Northern Mariana Islands (CNMI)-Only Transitional Worker (CW-1) program. The cap for CW-1 visas for FY 2019 is 4,999. Read the details Here
U.S. drops travel ban for citizens of Chad
Based on the Department of Homeland Security's (DHS) assessment, President Donald J. Trump signed a proclamation on April 10, 2018, announcing that the Republic of Chad has improved its identity-management and information sharing practices sufficiently to meet the baseline security standard of the United States. Chad nationals will therefore again be able to receive visas for travel to the United States.
Enhanced Vetting Capabilities and Processes for Detecting Attempted Entry into the United States
President Donald J. Trump signed a Proclamation Maintaining Enhanced Vetting Capabilities and Processes for Detecting Attempted Entry into the United States by Terrorists or Other Public-Safety Threats. DHD to develop recommendations regarding whether the suspensions and limitations of the countries should be continued, modified, terminated, or supplemented; and submit to me a report detailing these recommendations every 180 days.
Supreme Court Rules Against In-State Tuition for DACA Recipients
The Arizona Supreme Court has ruled unanimously against the Maricopa Community College District Board over whether Deferred Action for Childhood Arrivals (DACA) recipients can receive in-state tuition in Arizona.
In a decision order posted on the attorney general's website, the court agreed with a 2017 appeals court decision saying "existing federal and state law do not allow MCCCD to grant in-state tuition benefits to DACA recipients." Source Arizona Public Media
USCIS Releases G-325A Form of 03/29/2018 for Deferred Action
Effective 06/11/2018, USCIS will receive only the new 03/29/2018 edition and current editions will be rejected!
OFLC Releases Foreign Labor Certification Applications Performance Data for FY 2018 Second Quarter Ending 03/31/2018
The Office of Foreign Labor Certification has posted updated program factsheets containing the Quarter 2 FY 2018 selected statistics for the Permanent Labor Certification Program, Prevailing Wage Determination Program, H-1B Temporary Visa Program, H-2A Temporary Agricultural Visa Program, and H-2B Temporary Non-agricultural Visa Program. Reports are derived from program data as of 3/31/2018.The updated program factsheets may also be found on OFLC's Performance Data page.
Immigrant Visa Processing Location Change from New Delhi to Mumbai, India
Effective April 1, 2018, the U.S. Embassy in New Delhi will no longer process IR5, IR1, IR2, CR1, or CR2 visas. Read the details Here
May 2018 Visa Bulletin Released
The U.S. Department of State (DOS) released the May 2018 Visa Bulletin. In it, the cutoff date for the employment-based, third preference (EB3) category for India moves forward by a few months. Also, a cutoff date is established for the employment-based, fifth preference (EB5) category for Vietnam. There is little-to-no movement in all other categories.