Our Firm News
IIUSA EB-5 Advocacy Conference – April 22 to 24, 2018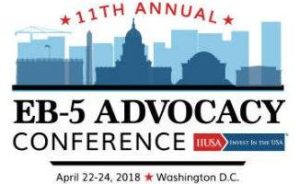 Edward Beshara, Managing Partner attended the IIUSA EB-5 Advocacy Conference in Washington DC on April 22- 24, 2018 at the vibrant Marriott Marquis, completed in May of 2014 with the help of EB-5 investment.
The IIUSA EB-5 Advocacy conference is considered the EB-5 industry's premier conference focusing on advocating for the EB-5 Program, promoting industry success and driving business development.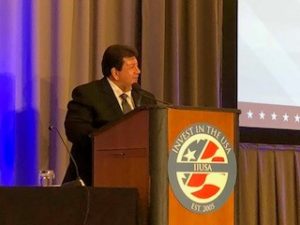 Edward also was a speaker on a panel titled "Creative Solutions to EB-5 Visa Backlog: How Non-Immigrant Visas Can Help (or not)". Edward was joined by other top industry leaders.
The panel was well attended and was very interactive to learn about the creative solutions for the EB-5 extraordinary time delays.
Coming Events
The Investment Migration Forum – June 4 to 6, 2018
Edward Beshara, Managing Partner will be attending the Investment Migration Council (IMC) Forum in Geneva June 4-6, 2018. The Investment Migration Forum is the must-attend trendsetting forum of the global investment migration industry, where all leading players unite to unveil the latest thinking, developments and new programs. Be part of this unique forum and experience first-hand valuable information and excellent networking with key professionals, government officials, academics and thought leaders.
Edward will have a key role at the Forum. He is the Co-Chair of the morning session on the U.S. on June 6, 2018, and will be introducing the guest speakers. He is also a speaker and moderator on two panels: "Immigration to the United States" and "The Growing Market for Citizenship and Residence Panel".
The Investment Migration Council (IMC) is the worldwide association for investor immigration and citizenship-by-investment, bringing together the leading stakeholders in the field and giving the industry a voice.
It will certainly be of interest for you to attend the Forum If you would like to hear RCbI industry insights first hand from key players and if you would like to meet with 300+ wealth managers, lawyers, financial advisers, migration agents, family offices and government officials from 45+ different jurisdictions. Please register.
Please visit http://investmentmigrationforum.org for all the information about the Forum agenda.
Looking forward to seeing you in Geneva!
Immigration News
USCIS to Begin Using More Secure Mail Delivery Service
WASHINGTON – U.S. Citizenship and Immigration Services (USCIS) announced today that the agency will begin phasing in use of the U.S. Postal Service's (USPS) Signature Confirmation Restricted Delivery service to mail Green Cards and other secure documents beginning April 30, 2018. Read the details Here
USCIS published FY 2017 Annual H-1B Petition Report to Congress
This annual report covers the following details during the FY 2017:Number of H-1B petitions filed and approved;
Number of H-1B petitions field by institutions;
Number of H-1B petitions with waiver of ACWIA fees;
Number of H-1B petitions paid with fraud prevention fees.
Supreme Court Appears Ready To Side With Trump On Travel Ban
During intense arguments at the Supreme Court on Wednesday, the justices, by a narrow margin, seemed to be leaning toward upholding the third and current version of the Trump travel ban. a The court decision is expected in June. Source NPR article
USCIS updated its STEM OPT guidance webpage
The U.S. Citizenship and Immigration Services (USCIS) has updated its STEM OPT webpage to reflect an apparent change in the agency's interpretation of the 2016 STEM optional practical training (OPT) rule for F-1 students. USCIS seems to have changed its interpretation of what can qualify as a bona fide employer-employee relationship that particularly impacts staffing, temp agencies, and consulting firms. The USCIS now says that any offsite placement, including at a third-party worksite, is prohibited.