Our Firm News
3rd Annual Tequila Tasting at the Mexican Consulate – July 13

Edward Beshara, attended the Third annual "Tequila Tasting in Orlando" at the Mexican Consulate. This event was held in order to promote, preserve and extend the Mexican culture and traditions abroad.
The Team Celebrated Edward Beshara's Birthday!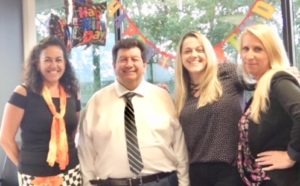 The team at Beshara Global Migration Law Firm had fun celebrating Edward's Birthday on July 5, 2018. The team Surprised Edward with decorating his office, cake, and a card.
Celebrating birthdays is always a great opportunity for employees to feel appreciated and cared for.
Coming Events
FREE Webinar on EB-5 Expedited Processing – July 18, 2018
What: EB-5 Expedited Processing
How to obtain your U.S. Conditional Permanent Residency in an estimated 8 MONTHS and comparison to other visa costs and timelines
When: On Wednesday, July 18, 2018, from 10:00 AM EST. RSVP: Click the link Here to register. Space is Limited
Webinar Host:
Edward Beshara, Managing Partner of Beshara Global Migration Law Firm based in Orlando Florida.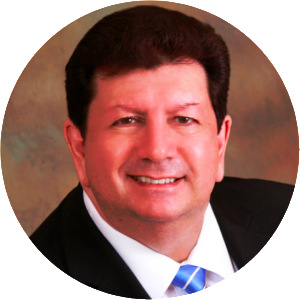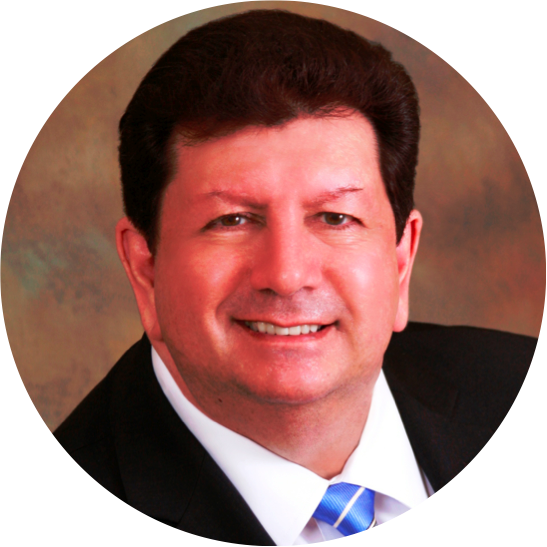 Edward has been exclusively practicing U.S. business immigration law for over 35 years and EB-5 for 27 years. He is an active member of Invest in the USA and serves on its New EB-5 Markets Committee and Best Practices Committee.
He is past president of the American Immigration Lawyers Association's Central Florida Chapter. Beshara is a member of the Advisory Committee of the Investment Migration Council in Geneva, Switzerland. He has been an adjunct professor of Business Immigration Law and Practice at the University of Florida Levin College of Law.
He is among the Top 25 EB-5 Immigration Attorneys in theEB5 Investors Magazine's annual issue. He has been a speaker on many national and global EB-5 panels and author of many EB-5 articles.
Orlando University of Florida Law Alumni Networking Event – July 17, 2018

Edward Beshara, Managing Partner, will be attending the University of Florida Alumni Networking Event.
The Event is a great opportunity to connect with old and new colleagues and learn more about the University of Florida recent accomplishments and its quest to become a Top 10 Public Law School.
2018 Los Angeles EB-5 Convention – July 23 & 24, 2018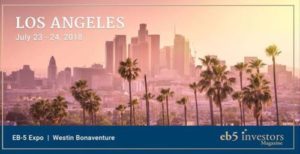 Edward Beshara was invited by EB5 Investors Magazine to be a speaker at the 2018 Los Angeles EB-5 Convention at The Westin Bonaventure Hotel and Suites on July 23-24, 2018 on a panel titled: "Material Change – What is it and when does it matter?"
This two-day educational, networking event will host a gathering of broker-dealers, developers, immigration and securities attorneys, migration agents, regional centers and other EB-5 program stakeholders.
Use the code EDWARDB100 to receive a U.S $ 100 discount on your registration.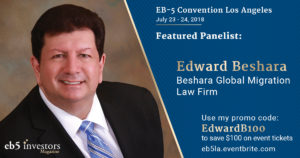 Immigration News
EB-5 Immigrant Investor Program Modernization Rule Likely to be Finalized Soon – July 15, 2018
On January 13, 2017, this Proposed Rule was published and comment period ended on April 11, 2017. The proposed rule intends to achieve integrity of EB-5 investor immigration and achieve enhanced contribution to the U.S. economy by bringing two changes, among others. One is to increase the minimum amount for investment immigration and the other is to change designation and oversight of targeted employment areas. It is very likely that the Proposed Rule be published as early as next month, August 2018.
USCIS Updates Policy Guidance for Certain Requests for Evidence and Notices of Intent to Deny – July 13, 2018
U.S. Citizenship and Immigration Services (USCIS) today posted a policy memorandum (PDF, 113 KB) (PM) that provides guidance to USCIS adjudicators regarding their discretion to deny an application, petition, or request without first issuing a Request for Evidence (RFE) or Notice of Intent to Deny (NOID) when required initial evidence was not submitted or the evidence of record fails to establish eligibility.
USCIS Updates Notice to Appear Policy – July 5, 2018
U.S. Citizenship and Immigration Services issued updated guidance (PDF, 139 KB) today that aligns its policy for issuing Form I-862, Notice to Appear, with the immigration enforcement priorities of the Department of Homeland Security.
Elimination of Nonimmigrant Visa Exemption for Certain Caribbean Residents – July 5, 2018
Effective 30 days from 07/06/2018, the Final Rule will require a British, French, or Netherlands national, or a national of Barbados, Grenada, Jamaica, or Trinidad and Tobago, who has his or her residence in British, French, or Netherlands territory located in the adjacent islands of the Caribbean area, or in Barbados, Grenada, Jamaica, or Trinidad and Tobago, to obtain a valid, unexpired visa if the alien is proceeding to the United States as an H-2A agricultural worker. The IFR also eliminated the visa exemption for spouses and children accompanying or following to join such workers.
DHS Extends Yemen TPS for 18 Months through 03/03/2020 – July 5, 2018
Secretary of Homeland Security Kirstjen M. Nielsen has announced her determination that an extension of the Temporary Protected Status (TPS) designation for Yemen is warranted pursuant to the Immigration and Nationality Act. Individuals from Yemen with TPS will be eligible to re-register for an extension of their status for 18 months, through March 3, 2020.
Senate OKs Bill To Grant New Zealanders Access To E Visas – June 28, 2018
The U.S. Senate unanimously passed a bill that would add New Zealand to the list of countries participating in the E visa program, which allows nationals of certain foreign countries to temporarily reside in the U.S. to conduct trade and investment operations.
August Visa Bulletin is published.
Useful Links: