Our Firm News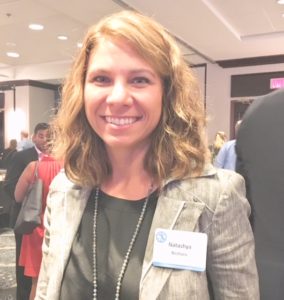 Natashya Office Visit – August 23 & 24, 2018
Natashya Narkiewicz, Edward's eldest daughter spent two days in the office shadowing Edward.
Natashya is the Director of Marketing for an internationally branded website company. Natashya has an MBA in Marketing.
She attended meetings with clients and staff to learn about Beshara Global Migration Law Firm.
She offered sound advice on future marketing strategies to grow the firm.
The team at Beshara Global Migration Law Firm was very happy to have her in the office.
Office Visit from an attorney from Africa – August 27, 2018

An attorney and friend from Africa visited Edward Beshara, Managing Partner, Beshara Global Migration Law Firm.
CMB Event – August 26, 2018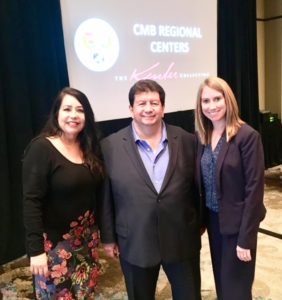 Edward Beshara, Managing Partner, attended the CMB Regional Centers event in Orlando which introduced the CMB's newest EB-5 Investment Opportunity CMB Infrastructure Investment Group 68 L.P. on Sunday, August 26, 2018, at the Grand Bohemian Hotel in Orlando.
Edward Beshara is pictured with Noreen Hogan, President of CMB and Attorney Marisa Casablanca.
OCBA Luncheon – August 23, 2018
Edward Beshara, Managing Partner, Andrea Almeida, Brazilian Liaison and Natashya Narkiewicz attended the OCBA luncheon on August 23, 2018.
Chief Judge Frederick J. Lauten, Ninth Judicial Circuit Court of Florida gave his "Report from the Ninth Judicial Circuit Court".
The luncheon was a great networking opportunity.

FREE Seminar on U.S. Immigration and Real Estate – August 22, 2018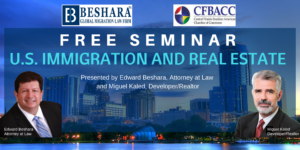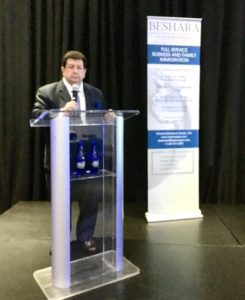 In Cooperation with the Central Florida Brazilian American Chamber of Commerce (CFBACC), Beshara Global Migration Law Firm and Miguel Kaled, Developer/Realtor held a free seminar titled "U.S. Immigration and Real Estate" on August 22, 2018. The seminar discussed how the purchase of Real Estate can assist and be the first step towards the E-2 and/or EB-5 investment requirements.
The seminar was attended by a diverse audience, from the real estate industry, financial institutions and many more.
Beshara Global Migration Law Firm offers FREE monthly seminar with the purpose of educating business owners, operators, professionals and consumers on Immigration.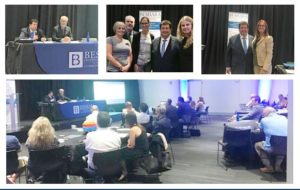 CFBACC Full Sail University Tour – August 17 2018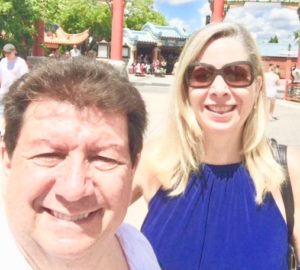 Edward Beshara and his wife Tina Beshara attended the Central Florida Brazilian American Chamber of Commerce (CFBACC) Full Sail University tour and Network event.
Full Sail University offers campus and online degree programs that are designed for the world of Entertainment, Media, Arts and Technology.
Edward Beshara is a Director of the Central Florida Brazilian American Chamber of Commerce. Edward has been an active member of the CFBACC committee since 2016.
Global Alliance Association of Realtors Seminar – August 15, 2018

Edward Beshara, Managing Partner, was speaking at the Global Alliance Committee (Osceola County Association of Realtors) event titled  "Tools for International Real Estate Success". Edward was on a panel that discussed EB-5 visas and Immigration.

The Canadian Workshop – August 15, 2018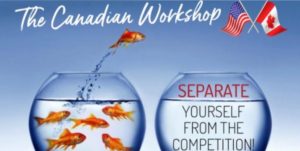 Edward Beshara, Managing Partner, attended the Canadian Workshop that was organized by Global Real Estate Services, Inc.
The event was a great opportunity to network and gain insights into Canadian Buyers needs and the resources available to provide additional value to the client.
Edward Beshara and John Mina for Orange County Sheriff – August 15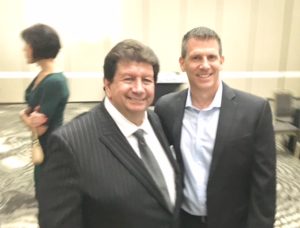 Edward Beshara, Managing Partner, attended the fundraising reception in honor of John Mina for Orange County Sheriff at the Doubletree Hotel on August 15, 2018.
Edward and John had a discussion about racial and ethnic profiling by police.
Edward Beshara is pictured with John Mina
Coming Events
Free Seminar "U.S. Immigration and Currency Exchange" – September 25, 2018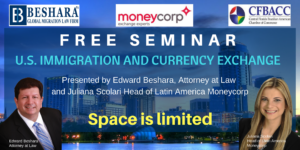 In cooperation with Moneycorp and Central Florida Brazilian Amercian Chamber of Commerce (CFBACC)
What: U.S. Immigration and Currency Exchange 
Learn about U.S. Immigration and the importance of working with a currency exchange specialist when investing in the U.S.
Also, learn also about the benefits of membership with the CFBCC
When: On Tuesday, September 25, 2018, from 10:00 AM EST. Register Today, Space is Limited
Where: I-DRIVE NASCAR (5228 Vanguard Street, Orlando Florida 32819)
Seminar Hosts:
Edward Beshara, Managing Partner of Beshara Global Migration Law Firm based in Orlando Florida. Edward has been exclusively practicing U.S. business immigration law for over 35 years and EB-5 for 27 years. He is an active member of Invest in the USA and serves on its New EB-5 Markets Committee and Best Practices Committee. Advisory Committee of the IMC – Geneva, Switzerland.
Juliana Scolari, Head of Latin America. Juliana joined moneycorp in 2010 and heads the company's unique Brazilian foreign exchange service, specifically designed to assist clients and corporations transferring funds from and to Brazil. Juliana holds a Master degree in Business Administration from Stetson University – Florida and has more than twelve years of experience in dealing with international business clientele within the financial market.
AILA Orlando USCIS Liaison Meeting – September 18, 2018
Edward Beshara will be attending the AILA Orlando USCIS Liaison Meeting on September 18, 2018, at the Orlando USCIS Field Office. The meeting will be followed by lunch at Chili's Grill & Bar.
This is a great opportunity to network, know one another, share information, and ask questions.
Immigration News
Ombudsman "Timely" Schedules a Teleconference 09/06/2018 2:00-3:00 PM (EST) on USCIS Policy of Denials Instead of RFE/NOID Effective 09/11/2018
On September 6, 2018, from 2:00pm to 3:00pm EDT, the Office of the Citizenship and Immigration Services Ombudsman will host a teleconference to discuss U.S. Citizenship and Immigration Services' Policy Memorandum on "Issuance of Certain RFEs and NOIDs.
Historically, USCIS adjudicators followed a 2013 policy memorandum titled, "Requests for Evidence and Notices of Intent to Deny," which encouraged the issuance of RFEs and NOIDs when the initial evidence submitted did not establish eligibility. However, the new policy which takes effect on "9/11" gives a broad discretion to deny, instead of first issuing RFE or NOID, nonimmigrant or immigrant petitions and applications. The new policy applies to all applications, petitions, and requests, except for Deferred Action for Childhood Arrivals (DACA) adjudications, received after September 11, 2018. For registration, please click here.
USCIS Extends and Expands Suspension of Premium Processing for H-1B Petitions to Reduce Delays – 08/28/2018
USCIS is extending the previously announced temporary suspension of premium processing for cap-subject H-1B petitions and, beginning Sept. 11, 2018, will be expanding this temporary suspension to include certain additional H-1B petitions. We expect these suspensions will last until Feb. 19, 2019, and will notify the public via uscis.gov before resuming premium processing for these petitions.
USCIS Releases on 08/24/2018 Regional Center Investment Immigration Policy Manual Update Requesting Expansion of "Geographical Area" – 08/24/2018
This updated Policy Manual guidance is controlling and supersedes any prior guidance.
Updated Policy Highlights
Clarifies that USCIS reviews whether an economic methodology is reasonable to demonstrate that a regional center¡¦s geographic area is limited, to include whether the multipliers and assumptions about a project¡¦s geographic impact are reasonable.
Explains that a regional center¡¦s geographic area must be limited, contiguous, and consistent with the purpose of concentrating pooled investment in defined economic zones.
Affirms that a Form I-924 amendment must be filed and approved in order to expand the regional center¡¦s geographic area for requests made on or after February 22, 2017.
Clarifies how USCIS adjudicates regional center-associated Form I-526 petitions where the regional center has requested an expansion of its geographic area.
Explains that USCIS considers a change in regional center affiliation a material change in cases where the change takes place after Form I-526 has been filed.
State Department Intends to Revise DS-260 Online Immigrant Visa Application Form and Seeks Public Comments – 08/27/2108
The proposed changes include:
One question lists multiple social media platforms and requires the applicant to provide any identifiers used by applicants for those platforms during the five years preceding the date of application.
Other questions seek five years of previously used telephone numbers, email addresses, and international travel; whether the applicant has been deported or removed from any country; and whether specified family members have been involved in terrorist activities.
The "Sign and Submit" statement will provide applicants information related to correcting records within Federal Bureau of Investigation databases and additional information regarding the immigrant visa medical examination.
Applicants from countries where female genital mutilation/cutting (FGM/C) is prevalent will be provided a link in the DS-260 to an electronic pamphlet that covers the illegality of the practice in the United States.
Finally, the revised visa application forms will include additional information regarding the visa medical examination that some applicants may be required to undergo. .
This notice will be published in the federal register seeking comments. The change will not take effect until the final notice is published.
Somalia TPS "Re-Registration" Runs from 08/27/2018 for 60 Days
Eligible Somalians should not neglect to re-register the TPS timely. EAD will issue valid until 03/17/2020. For details, please see the advance copy of federal register notice.
Please note that the USCIS released announcement of TPS extension on 08/17/2018 with the notice re-registration start of 08/17/2018, which conflicted with the official notice which will be published on 08/27/2018, next Monday. The office notice clearly indicates that the re-registration will not start until 08/27/2018
Asylum Workload Statistics for Approval Rates and Credible Fear Found Rates FY-2017 & FY-2018 Q3 (April-June) – 08/23/2018
Approval rate has dropped to average 30% in FY 2018 as compared to the rate of 36.5% in FY 2017.
USCIS Changed Policy of STEM OPT program – 08/17/2018
USCIS has just released the following statements:
USCIS is updating the Optional Practical Training Extension for STEM Students (STEM OPT) page of our website to clarify the reporting responsibilities for participating in the STEM OPT program. Students and employers must report material changes to the Designated School Official (DSO) at the earliest opportunity by submitting a modified Form I-983. Employers must report the STEM OPT student's termination of employment or departure to the DSO within five business days. As previously indicated on the webpage, students must report certain changes, such as changes to their employer's name and address, to their DSO within 10 business days. Prompt reporting ensures that Department of Homeland Security (DHS) is able to exercise effective oversight of the program.
Yemen TPS Re-Registration Starts from 08/14/2018 thru 10/15/2018
The 60-day re-registration period runs from August 14, 2018 through October 15, 2018. It is very important for re-registrants to timely re-register during this 60-day period and not to wait until their EADs expire. For details, please read the notice published in the federal register. Read also USCIS announcement on Re-Registration Period and Requirements.
Useful Links: