Our Firm News
Team Lunch – September 6, 2018

Edward Beshara and his team had lunch together on Thursday, September 6, 2018, to celebrate recent successes in visa approvals.
Brazilian Day Orlando – September 11, 2018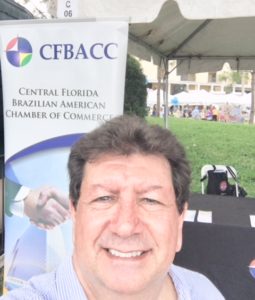 Beshara Global Migration Law Firm 
participated in the popular Brazilian event in our region called the "
Brazilian day Orlando
" which was held on September 9th from 12 pm to 8 pm at Lake Eola – downtown Orlando. This is a Cultural festival with Brazilian food, music, entertainment and more.
Beshara Global Migration Law Firm has a dedicated team of lawyers and paralegals who speak, read and write Portuguese to assist the Brazilian clients.
Edward Beshara is a Director of the Central Florida Brazilian American Chamber of Commerce. Edward has been an active board member of the CFBACC committee since 2016.
Coming Events
Free Seminar "U.S. Immigration and Currency Exchange" – September 25, 2018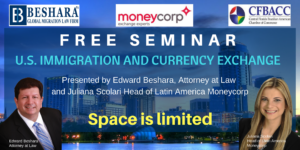 In cooperation with Moneycorp and Central Florida Brazilian American Chamber of Commerce (CFBACC)
What: U.S. Immigration and Currency Exchange 
Learn about U.S. Immigration and the importance of working with a currency exchange specialist when investing in the U.S.
Also, learn also about the benefits of membership with the CFBACC
When: On Tuesday, September 25, 2018, from 10:00 AM EST. Register Today, Space is Limited
Where: I-DRIVE NASCAR (5228 Vanguard Street, Orlando Florida 32819)
Seminar Hosts:
Edward Beshara, Managing Partner of Beshara Global Migration Law Firm based in Orlando Florida. Edward has been exclusively practicing U.S. business immigration law for over 35 years and EB-5 for 27 years. He is an active member of Invest in the USA and serves on its New EB-5 Markets Committee and Best Practices Committee. Advisory Committee of the IMC – Geneva, Switzerland.
Juliana Scolari, Head of Latin America. Juliana joined moneycorp in 2010 and heads the company's unique Brazilian foreign exchange service, specifically designed to assist clients and corporations transferring funds from and to Brazil. Juliana holds a Master degree in Business Administration from Stetson University – Florida and has more than twelve years of experience in dealing with international business clientele within the financial market.
AILA Orlando USCIS Liaison Meeting – September 18, 2018
Edward Beshara will be attending the AILA Orlando USCIS Liaison Meeting on September 18, 2018, at the Orlando USCIS Field Office. The meeting will be followed by lunch at Chili's Grill & Bar.
This is a great opportunity to network, know one another, share information, and ask questions.
AILA CF Chapter 32nd Annual Immigration Law Conference – October 25 to 27, 2018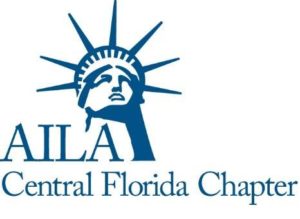 Edward Beshara
 will be a Discussion Leader and Speaker at the AILA Central Florida Chapter 32nd Annual Immigration Law Conference on the following panels. The first panel title is "EB-5: A Global Perspective" that will take place on Friday, October 26 from 4:15 PM to 5:15 PM and the second panel title is " E-2 to EB-5: Fast Track Entry into the U.S." that will take place on Saturday, October 27 from 9:30 AM to 10:25 AM.
The Annual Immigration Conference is the most hands-on, practical conference you've ever attended. When you leave, you will leave with "Best Practice" solutions that you can implement in your business right away from some of the most brilliant immigration attorneys across the country.
2018 AILA & IIUSA EB-5 Industry Forum – October 29 & 30, 2018
Edward Beshara
 will be speaking on the following panel, at the 2018 AILA & IIUSA EB-5 Industry Forum that is taking place in Chicago on October 29– 30, 2018, at the Sheraton Grand Chicago Hotel. The panel is titled "Choices in EB-5: Examining Direct Vs Regional Center Opportunities From Key Perspectives". The panel will be on Monday, October 29, 2018 at 1:25 PM.
Edward Beshara is on the AILA & IIUSA Conference Program Committee.
Join your colleagues for the most important EB-5 event of the year! • World-Class Continuing Legal Education • Unparalleled Networking Opportunities • Access to Regional Center Representatives, Financial Service Providers, Business Plan Writers, and More. To register click 
Here
. (EARLY BIRD Registration ends: October 1, 2018
Immigration News
Office of Foreign Labor Certification (OFLC) will host a webinar on Friday, September 14, 2018, from 2:00 PM to 3:00 PM EST designed to educate stakeholders, program users, and other interested members of best practices associated with filing an application with the H-2B Labor Certification program. To join the webinar click 
Here
REMINDER: USCIS Policy of Discretionary Denial Instead of Issuing RFE or NOID Before Denial Takes Effect today: TUESDAY 9/11
Beginning today, USCIS officials may outright deny instead of issuing RFE or NOID for flaws or lack of "initial evidence" in applications or petitions which they receive. Accordingly, nonimmigrant or immigrant applicants and petitioners should review "form instructions" for applications or petitions they want to file to ensure that there are no flaws in presentation of the forms and no initial evidence are missing in their presentation before they ship out their applications and petitions from today.
Here is a summary of the Ombudsman Teleconference on "Discretionary Denial w/o RFE or NOID" that took place last week:
USCIS will release "Optional Checklist" on 09/11/2018 to help the filers to figure out what the "initial evidence" will be.
USCIS provided training to the immigration officers thoroughly as to how this new policy should apply.
The new policy applies only to the cases that are filed on or after 09/11/2018 and will not apply to any cases which were filed before 09/11/2018.
The new policy is intended to punish "frivolous" filing or "substantially incomplete" filing and not intended to punish for filing with "innocent"errors. Statistics reflected that the USCIS had issued RFEs in 40% of cases, adding a tremendous burden and workload, and the new policy is to get relief from such workload.
Federal judge denies Texas' request to halt DACA – September 5, 2018
A federal district judge on Friday denied the state of Texas' request that the Deferred Action for Childhood Arrivals program be put on hold. His decision means that hundreds of thousands of the program's recipients can continue applying to renew their status — for now. Source: 
Texas Tribune Article
.
OFLC releases a trainign presetnation on PERM
USCIS to Increase Premium Processing Fee – August 30, 2018
USCIS to Increase Premium Processing Fee from Current Rate of $1,225 to $1,410 Effective 30 Days from 08/31/2018. See the 
federal register
 notice.
Useful Links: