Our Firm News
WELCOME – Alexis Beshara
Alexis Beshara will be interning at Beshara Global Migration Law Firm during December 2017.
As a student in University of Central Florida (UCF) majoring in Event Management and Social Media, Alexis will bring fresh and new ideas to the firm.
CFBACC – Board Member Election for 2018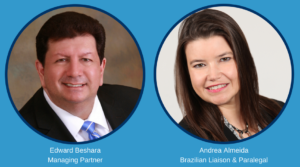 Edward Beshara, Managing Partner, and Andrea Almeida, Brazilian Liaison, and Paralegal have been re-elected as board members to the Central Florida Brazilian American Chamber of Commerce for the year 2018.Both Edward and Andrea are looking forward to serving on the committee to further facilitate business relations and partnerships in order to create or increase trade, commerce, and investments among its members.
Edward Beshara is the Founder and Chairperson of the Brazilian E2 and E1 Coalition and its goal is to lobby for E2 and E1 visas for Brazilian Nationals.
2017 AILA EB-5 Investors Summit – Friday, December 8 & 9, 2017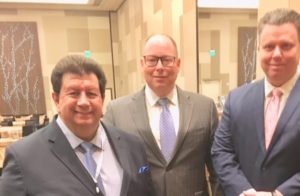 Edward Beshara attended the 2017 AILA EB-5 Investors Summit, Las Vegas. Beshara was also a discussion leader and speaker on a panel titled "Due Diligence Review of EB-5 Projects for the Individual Investor" with industry Attorney leaders Angelo A. Paparelli, Los Angeles, CA and Douglas D. Hauer, Boston, MA.
The panelists provided a general framework for Attorneys who provide due diligence review of immigration, business, and investment considerations of a particular EB-5 project, for the benefit of investors.
Coming Events
It is the Season to be Merry – Christmas Parties
Beshara Global Migration Law Firm will be having the Company Holiday Party on December 14, 2017, to celebrate the season and a year of success.
In addition, Edward Beshara will be joining the Christmas celebrations of AILA Central Florida and Space Coast Association of Realtors.

EB5investor Magazine Las Vegas EB-5 & Global Investment Immigration Convention – January 26-27, 2018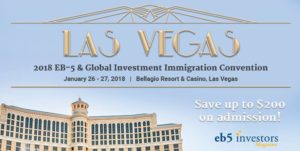 Edward Beshara will be a sponsor, a panel moderator and speaker at the EB5 Investors Magazine first conference of 2018: the Las Vegas EB-5 & Global Investment Immigration Convention at the luxurious Bellagio Resort & Casino in Las Vegas on Jan. 26-27, 2018.
The two-day networking and educational event, with more than 1,000 attendees, will feature a gathering of migration agents, regional centers, immigration and securities attorneys, developers, broker-dealers and other prominent EB-5 program stakeholders.
Immigration News
Congress Passes Continuing Resolution Extending EB-5 Program to Dec. 22
On December 7, 2017, Congress voted to extend federal funding and many government programs, including the EB-5 Regional Center Program, until December 22nd in a Continuing Resolution ("CR") with no changes to any federal programs.
Annual Report of Immigrant Visa Applicants has been published.
National Visa Center (NVC) published the Annual Report of Immigrant Visa Applicants in the Family-sponsored and Employment-based preferences Registered at the National Visa Center as of November 1, 2017. EB-5 waiting list has increased in 2017 by 23% reaching 30,259, 88% of this number are Chinese EB-5 applicants.
Supreme Court allows full enforcement of Trump's travel ban
The Supreme Court on December 4, 2017, allowed the third version of the Trump administration's travel ban to go into effect while legal challenges continue.
The court's brief unsigned orders on Monday urged appeals courts to move swiftly to determine whether the latest ban was lawful.
The court's orders mean that the administration can fully enforce its new restrictions on travel from eight nations, six of them predominantly Muslim. For now, most citizens of Iran, Libya, Syria, Yemen, Somalia, Chad and North Korea will be barred from entering the United States, along with some groups of people from Venezuela. Read more
The Office of the Citizenship and Immigration Services Ombudsman hosted their Seventh Annual Conference on December 7, 2017
The conference featured keynote speakers in the morning session, including Acting Secretary of Homeland Security Elaine Duke and U.S. Citizenship and Immigration Services Director L. Francis Cissna, and panel discussions with federal officials and public stakeholders in the afternoon. This year's topics included the H-1B visa AILA Doc. No. 17090661. (Posted 11/28/17) program, naturalization, background checks, E-Verify, and Transformation. The conference agenda is available here.
ICE and CBP release end of fiscal year 2017 statistics
The Department of Homeland Security (DHS) announced its end-of-year immigration enforcement numbers, the results of a year-long return to enforcing the law, upholding the integrity of our lawful immigration system, and keeping America safe. In Fiscal Year (FY) 2017, U.S. Customs and Border Protection (CBP) reported 310,531 apprehensions nationwide, 303,916 of which were along the Southwest border, underscoring the need for a physical barrier at the border. Read the full press release
Real ID will be needed for domestic travel starting January 22, 2018
Effective January 22, 2018, air travelers with identification (ID) that does not meet the REAL ID Act requirements or whose state does not have an extension must present an alternative form of ID in order to board a domestic flight. The U.S. passport card and passport book are both acceptable forms of ID. Read more here.
Useful Links